Your pet is always welcome at our spacious boarding facility. We pride ourselves in providing all of our pet guests with the best comfort and care possible.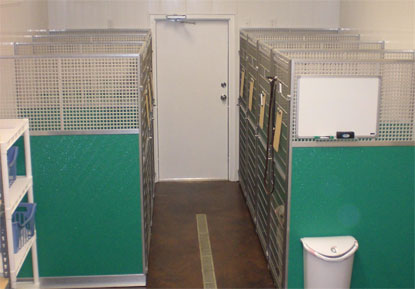 Accommodations
All of our boarding guests stay in a large, comfortable area, with plenty of room to walk around, lie down and stretch out. Our kennels are air-conditioned and kept at a pleasant temperature for your pet's comfort. We feed all boarding guests Purina EN food. However, if your pet has special dietary needs, you may bring in a small supply of your pet's food from home. Fresh water is provided for all pets at all times. You are welcome to bring your pet's treats, blankets and toys from home. For the safety and comfort of our feline guests, we maintain a separate boarding area for cats. This area has a large window looking into the treatment area. Our feline guests are fed twice a day and litter boxes are cleaned a minimum of two times a day. Canine guests can rest and relax in their own cages. All dogs are turned out into our outdoor kennel area two or more times a day. Your canine companion receives lots of attention from our caring kennel staff. Complimentary kennel baths are given to dogs staying a minimum of 3 nights. For dogs staying less than 3 nights, kennel baths are available upon request at a charge.
Requirements
All boarding guests must have up to date vaccinations. All pets must have written proof showing that they are current on their vaccinations. If they are not current, these vaccines will be given to your pet at an additional cost. Boarding guests must also be free of fleas, ticks and other parasites before boarding. If your pet shows signs of these parasites, he or she will be treated immediately at the owner's expense.
Vaccines Required for Dogs:
Rabies
Distemper/Parvo
Bordetella (Kennel Cough)
Vaccines Required for Cats:
Upper Respiratory vaccine (FVRCP)
Rabies
Canine and Feline boarding facilities